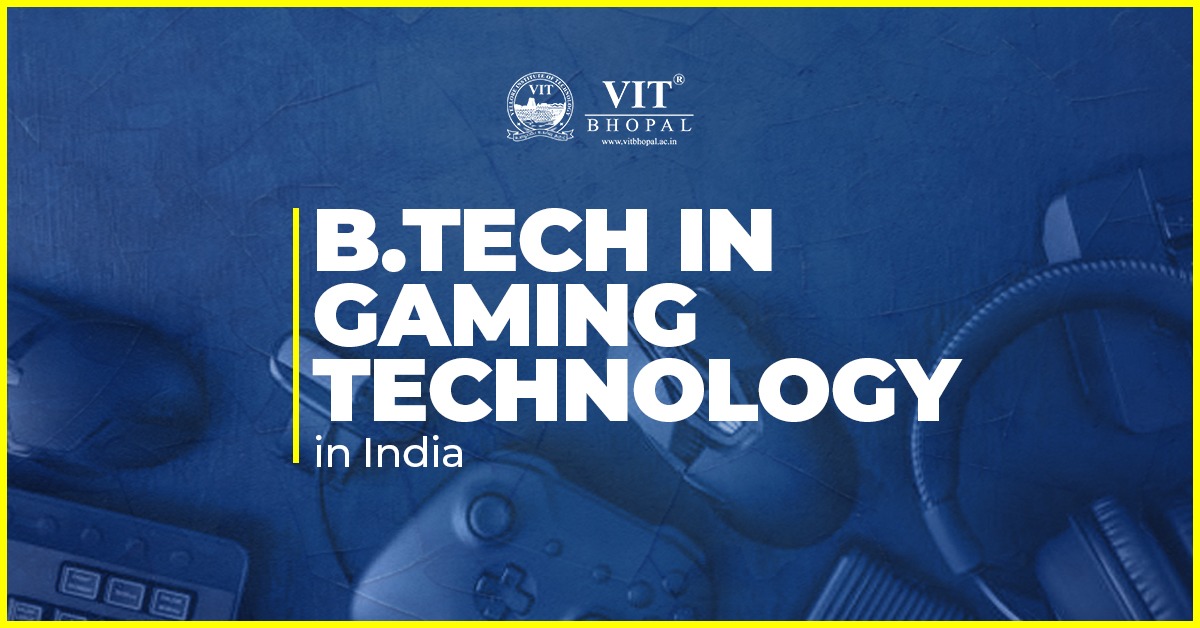 B.Tech in Gaming Technology in India
B.Tech in Gaming Technology in India
Introduction
Gaming Technology is a field that balances a series of talents beginning with the software development process to develop video games. The internal passion for game design and associated technology makes it a perfect blend for an individual to build one's future and inspire them to create game titles of their own. In this blog you will get a better understanding about the concept of B.Tech in Gaming Technology in India, its academic nature and what the major game designing courses after 12th are.
So, let the games begin!
The program is designed to keep up with the exponential growth of the gaming industry in this digital world, and to take the students through the entire development process, prepare them for a challenging as well as rewarding career in creating what they love. From the beginning of this bachelor programme the student begins to learn the technical, professional and personal skills required in the game industry. The students learn the foundations of computer programming, graphics design and user interface principles, to envision their own game engines and further collaborate with a team of artists and designers to incubate a complete game.  In order to provide the students an extra edge thereby gearing them to face the demands of the professional game world, the specialization in gaming technology also focuses on additional courses in computer science, gaming physics, communication skills etc.
 There are over 150 colleges which offer the courses in the field of gaming technology for the aspiring students in India. Game designing is an immensely fascinating concept for the young and it's cost-effective as well – Our country stands 18th in the global gaming industry category and the cost of education here is far lesser as compared to other developed countries which offer this specialization.
Vellore Institute of Technology (VIT) – Bhopal
Located in – State: Madhya Pradesh, City: Bhopal
VIT stands number one under the category of private institution according to the NIRF 2020. Taking forward the VIT legacy, VIT Bhopal, was established in the year 2017, with an objective to provide quality higher education with global standards in the heart of India. The cultural diversity in the student community, envisioning the best for every student, by giving them the "VIT edge" and providing every student a place to learn and a chance to grow; is the main goal for all the VIT Institutes in India. 
VIT was established in India with aspirations to provide quality higher education on par with international standards, thereby making their students technologically superior and ethically capable to improve the quality of human life. Similarly, VIT Bhopal also strives to empower its students to attain excellence through learning and aligning them with the current trends in technology. It has collaborated with reputed national and international organizations and universities around the world to aid in preparing a globally competent generation of professionals. Being regarded as one the best institutes in engineering and science, VIT Bhopal currently offers UG, PG, integrated & research programs in the fields of engineering, applied sciences, management etc., 
Curriculum Highlights: World Design, Scripting, Storyboarding, Character Design, Animation, UI/UX Design, Lighting & Asset Design etc.
Some facts behind the gaming industry:
Game industry is developing so rapidly that it will reach over 300 billion by 2026. It has been predicted that the global game market revenue in 2022 will be $198 billion. The worldwide PC online game market in 2019 was 33.6 billion with over 2.5 billion gamers around the world.

Value of the game market in the year 2020 is $2422 million and the global game market revenue per segment in 2021 is $180.1 billion.

It is projected that in the current decade, game development is responsible for about 21% of job growth in the software development sector and about 4% in the multimedia and animation sector.

The median salary for an individual in the field of video game programmer is about $65,423 and $55,201 for multimedia artists and animators.
The entirety of the curriculum offered here is envisioned to meet the standards worldwide now and for the years to come, giving more opportunities to the students graduating under this specialization than those with a simple CSE degree. With qualified and trained faculty, support from major Industries like the Volkswagen, Virtual Engineering etc., practice of CALTech (Collaborative and Active Learning through Technology) which includes presentations, projects, workshops and regular assignments for both theoretical and practical knowledge and FFCS (Fully Flexible Credit System) which allows every student to plan their pace of study at the institution, VIT Bhopal proves to be the best academic destinations. 
Our keen focus has always brought out the best results, a student of the 2018-2022 batch, Jasjeev Singh has been given an offer by Roach Interactive, India of Rs. 6 Lakhs based on his project work demonstrated in August 2019. Not only this, many students from the 2019-2023 have developed games in their first semester which are now available on various platforms such as the play store. VIT Bhopal has doctorate faculty and futuristic infrastructure which includes Coding studios, Computer labs, Gaming studio, library with latest online databases and international titles, availability of VR sets exclusively for the students of gaming technology. Apart from this, students of Gaming complete 3 certifications – NASSCOM Future skills, Unity and UiPath. 
The Gaming Department at VIT Bhopal has conducted 25+ events, 12 Master classes, 23 projects demonstrated in public and has signed MoUs with Unity Asia Pacific for Gaming, UI Path (USA) for RPA/Coding, Roach Interactive for Game Design and Full Sail University. 
These MoUs provide our students with many learning opportunities and help them to stay up to date with the world outside the institution as well.  The department is considered to be the most active department in the university. The gaming students are encouraged to learn through self-exploration which increases their knowledge stack, brainstorming with peers as sharing ideas with like-minded people helps them explore their creativity. Also, group projects help students decide, discuss and implement their ideas to design games. Students pursuing gaming technology can choose to be a game developer, game designer, animator/visual artist, game tester, narrative designer, audio engineer, game journalist/critic or a devOps engineer.