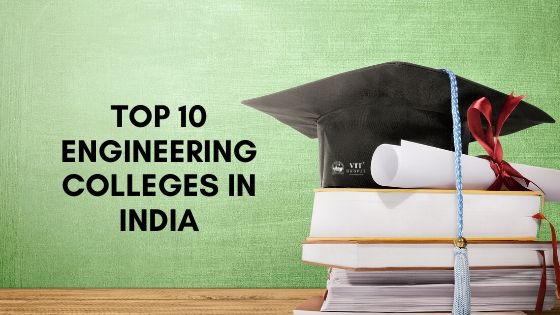 Top 10 Engineering colleges In India – 2020
Top 10 Engineering colleges In India – 2020
Thinking of getting in Engineering College but can't decide which college to join. Here we bring you the list of Top 10 Engineering colleges in India – 2020.
Thirty five years ago, Vellore Institute of Technology (VIT), led by Founder and Chancellor Dr. G Viswanathan, was a humble venture envisioned to create technically skilled young minds, which would make an incredible impact on society. Today with four Universities across India, VIT persistently imparts quality education and is achieving new heights in academic excellence. VIT has captured the no.1 ranking as the "Most Innovative Private Institution" by ARIIA 2019 Govt. of India, and the 'Institution of Eminence' (IOE) status, which has paved a way to establish clear unwavering focus on research with international collaborations and move up in the global ranking standards while contributing in the capacity building of the nation.
Here are the prominent Institutes of higher education in India, as per NIRF 2020, by MHRD, Govt. of India:
Indian Institute Of Technology, Madras, Chennai

Indian Institute Of Technology, Bombay, Mumbai

Indian Institute Of Technology, Kharagpur

Indian Institute Of Technology, Delhi, New Delhi

Indian Institute Of Technology, Kanpur

Indian Institute Of Technology, Roorkee

Indian Institute Of Technology, Hyderabad

Indian Institute Of Technology, Gandhinagar, Ahmedabad

Indian Institute Of Technology, Ropar-Rupnagar

Indian Institute Of Technology, Patna

Indian Institute Of Technology, North Guwahati

National Institute Of Technology, Tiruchirappalli

Vellore Institute Of Technology, Vellore (first private institute in the category)
Through the relentless efforts in pursuit of excellence, as per NIRF 2020 ranking, VIT is among the premier higher education institutes of India, which offer the right opportunities to excel in technical education.
Vellore Institute of Technology (VIT) Bhopal
Located in – State: Madhya Pradesh, City: Bhopal
Taking forward the VIT legacy, VIT Bhopal was established in the year 2017, with an objective to provide quality higher education with global standards in the heart of India. The cultural diversity in the student community, envisioning the best for every student, by giving them the "VIT edge" and providing every student a place to learn and a chance to grow; is the main goal for all the VIT Institutes in India. Similarly, VIT Bhopal strives to empower its students to attain excellence through learning and aligning them with the current trends in technology. It has collaborated with reputed national and international organisations and universities around the world to aid in preparing globally competent generation of professionals.
Led by Founder and Chancellor Dr. G Viswanathan, VIT Bhopal has been established with a vision to create technically skilled young intellectuals at the heart of the nation. Vice President Mr. Sankar Viswanathan and Assistant to the Vice President Ms. Kadhambari S Viswanathan pioneered this important milestone for VIT by setting up the institution in Madhya Pradesh to cater to the exponentially growing demand for quality higher education in India under the proficient administration of Vice Chancellor Dr. P Gunasekaran.
Vision: We at VIT University will impart futuristic technical education and instil high patterns of discipline through our dedicated staff, who shall set global standards, making our students technologically superior and ethically strong, who in turn shall improve the quality of life of the human race.
Mission: Our mission is to educate students from all over India, including those from the local and rural areas, and from other countries, so that they become enlightened individuals, improving the living standards of their families, industry and society. We will provide individual attention, world-class quality education and take care of character building.
Often regarded as the best university in terms of providing new innovative programs to keep pace with the changing technology scenario, VIT Bhopal assures its students an exposure to cutting edge technology and provide them with immense career opportunities in terms of better placements in India and abroad, or give them opportunities to pursue higher education in the top ranked universities of the world. Currently offering UG, PG, Integrated & Research programmes in the fields of engineering, applied sciences, technology, management etc., the University keeps itself closely informed about latest developments and needs of the industry, hence designs courses that ensure employability of its students.
The salient features of VIT Bhopal University are:
A lush green futuristic campus of 250 acres with state of the art infrastructure spread over 10 lakh sq.ft.

A novel method of learning – Collaborative & Active Learning through Technology (CALTech) which enables peer learning through interactive demonstrations, projects and case studies.

Futuristic laboratories and studios for students to learn by doing and acquire industry relevant practical knowledge in their respective specializations.

The first ever integrated 'Lecture and Laboratory' learning platform in the country with sophisticated classrooms without blackboards and back benches, that integrates technology, aesthetics, nature and psychology to enable student creativity to flourish.