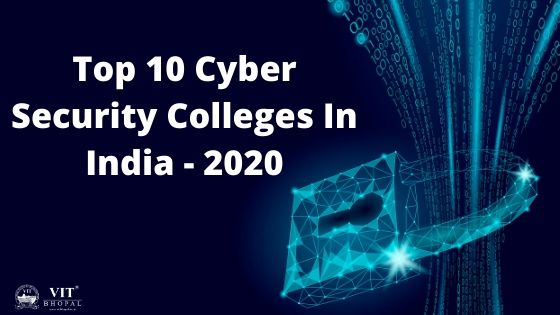 Top 10 Cyber Security Colleges In India – 2020
Top 10 Cyber Security Colleges in India – 2020
Introduction
Thinking of getting in Cyber Security College but can't decide which college to join. Here we bring you the list of Top 10 Cyber Security colleges in India – 2020.
Cyber Security has become the need of the day, in this newly emerging digital world. This is the spectacular age of rapid information transfer of both public and private intersections; and the Internet is what ushers this transmission through connectivity & relentless communication. Many digital platforms have mushroomed, which connect users to exchange information, knowledge, services etc., and in the process become prone to cyber threats. This factor shouldn't impede any of the business procedures, growth, expansion etc. Instead it is important to create initiatives to make the entire platform safe by being well-equipped to face and take a head-on approach.  Through cybersecurity initiatives we tend to figure infringement into copyrights, financial thefts, stealing personal data etc., which can threaten security, financial issues and confidentiality of a person, organization or even a nation.
What is Cyber Security?
Cyber Security also referred to as computer forensics, cyber forensics, plays a huge & important role in apprehending cyber criminals through online investigations for fraud. It includes the extraction and thorough analysis of digital content received as evidence such as documents from hard drive(s) information or other storage. Cyber security professionals deal with the extraction and inspection of data by using technical skills in coding, decrypting, ethical hacking etc.
Moreover as technology progresses, the perpetually evolving digital world we live in is invariably prone to cybercrime – the increase of online activities in every arena of work/business along with other everyday online activities have resulted in an exponential rise of online criminal behavior. Thus, there is an urgent need of professionals in Cyber Security and Digital Forensics.
It is no exaggeration to say that the battles in the future will probably be fought in cyberspace, with the targets being critical infrastructure such as dams, power grids, healthcare etc. we have evidently been exposed to few major events in the past years. Till date, more than 26,000 websites have been defaced and 91 lakh infected systems have been detected in India. The year 2016 saw over 3 million debit cards getting hacked in India. Disregarding the above mentioned fact, there are also 80% of cybercrimes that go unreported. This makes it super important that India fortifies its critical infrastructure and evolves a mechanism that can be practically implemented to check any cyber breach. And this is where the role of cyber warriors comes in.
Here are the prominent Institutes of higher education in India, as per NIRF 2020, by MHRD, Govt. of India: 
Indian Institute of Technology, Madras, Chennai

Indian Institute of Technology, Bombay, Mumbai

Indian Institute of Technology, Kharagpur

Indian Institute of Technology, Delhi, New Delhi

Indian Institute of Technology, Kanpur

Indian Institute of Technology, Roorkee

Indian Institute of Technology, Hyderabad

Indian Institute of Technology, Gandhinagar, Ahmedabad

Indian Institute of Technology, Ropar-Rupnagar

Indian Institute of Technology, Patna

Indian Institute of Technology, North Guwahati

National Institute of Technology, Tiruchirappalli

Vellore Institute of Technology, Vellore  (first private institute in the category)
 The above list clearly indicates that VIT is among the premier higher education institutes of India, which offer the right opportunities to excel in technical education.
Vellore Institute of Technology (VIT) – Bhopal
Located in – State: Madhya Pradesh, City: Bhopal
Taking forward the VIT legacy, VIT Bhopal was established in the year 2017, with an objective to provide quality higher education with global standards in the heart of India. Regarded as the best university in terms of providing new innovative programmes to keep pace with the changing technology scenario, VIT Bhopal assures its students an exposure to cutting edge technology and provide them with immense career opportunities in terms of better placements in India and abroad, or give them opportunities to pursue higher education in the top ranked universities of the world. Currently offering UG, PG, integrated & research programs in the fields of engineering, applied sciences, technology and management, VIT Bhopal strives to empower its students to attain excellence through learning and by infusing ethical values.
The Cyber Security & Digital forensic division at VIT Bhopal University is one of the most active teams of learners and experts in central India. Having a close association with the Government agencies, IT Industries and foreign universities, the division provides universally accepted, highly valuable undergraduate, post graduate courses on Cyber Security & Digital Forensics. The courses are designed to meet the huge demand of security professionals in the near future while facilitating the young budding engineers through latest technologies and real-time projects.
The Cyber security Division also has an industrial collaboration with VIRTUSA, to partner on efficient research projects for generating awareness, prevention, detection and response to Cyber Crimes, along with the capacity building of various government entities. The alliance works to envision and implement educational and professional skill enhancing programmes, facilitate/integrate industry academia interactions, deliberate on public policy and legal matters and co-host conferences, seminars and workshops.
The various programs on cyber security and digital forensics, offered at VIT Bhopal are as follows –
Curriculum Highlights: Cyber Crime, Warfare and Defence, Cyber Law and Ethical Hacking, Forensic Accounting & Fraud detection, Mobile Device Forensics, IoT Security, Artificial Intelligence in Cyber Forensics
Curriculum Highlights: Industry Internships, Cyber Security Principles, Incident Response, Malware Analysis, Cyber Law & Compliance, Security Information & Event Management
 Curriculum Highlights; Cyber Crime, Cyber Threat Analysis, Data Privacy, Android Security, Block Chains & Crypto Currencies, Machine Learning Forensics, Enterprise Cyber Security, Cyber Law, Ethical Hacking, Forensic Accounting & Fraud Detection, Mobile Device Forensics, IoT Security, Mobile Device Forensics, Secure Software Development
Marching towards academic excellence, VIT Bhopal also takes intrepid steps to nurture innovations and promote research activities. CyVIT, the Annual Cyber Security Conclave in association with National Cyber Safety and Security Standards-New Delhi, is the signature annual event of VIT Bhopal University. The event is focused to foster the exchange of ideas, insight, and technology among the pioneers of the academic and IT security industry. This is India's one of the largest Cyber Security conclaves, hosted exclusively for cyber experts along with professionals working in this field all over the world. The event provides a unique opportunity to hear from Cyber experts and scientists sharing the latest research in cyber-security. This premier event is exclusively designed to create a mutual platform for experts and the public to come together and share knowledge on one pestering issue – cyber-crime and how to remain within the boundaries of cybersecurity.
At the global market front, Cyber Security, constituting about 1% of the total IT industry currently, will grab a 10% share by 2025 and is estimated to be a $35 billion industry with over 1 million jobs created. The cyber security market in India is expected to grow from USD 1.97 billion in 2019 to USD 3.05 billion by 2022.
 The Cyber Security graduates can have lucrative careers in the areas of military, police, intelligence agencies, courts, forensic labs, financial institutions like banks or payment gateways, E-commerce portals, social media companies like facebook, software security (antivirus/firewall companies), telecom majors, airlines, hospitals etc., where it is predicted that in the coming years, a total of over a million professionals would be a necessity.
This is the time to unlock your potential as a Cyber Security expert and take your career to new heights. 
---