VIT introduces STARS Scheme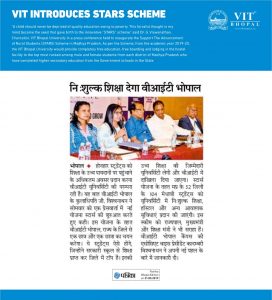 VIT introduces STARS Scheme
"A child should never be deprived of quality education owing to poverty. This forceful thought in my mind became the seed that gave birth to the innovative "STARS" scheme" said Dr. G. Viswanathan, Chancellor, VIT Bhopal University in a press conference held to inaugurate the Support The Advancement of Rural Students (STARS) Scheme in Madhya Pradesh. As per the Scheme, from the academic year 2019-20, the VIT Bhopal University would provide completely free education, free boarding and lodging in the hostel facility to the top most ranked among male and female students from each district of Madhya Pradesh who have completed higher secondary education from the Government schools in the State. As per the Scheme, the most meritorious 104 male and female students of Government Schools from the 52 districts of Madhya Pradesh would be given complete free education so that the students of the underprivileged and rural areas are afforded top quality technical education in the courses they choose. This scheme would cost of Rs. 25 crore for VIT Bhopal. This Scheme has been appreciated by the Governor of Madhya Pradesh, the Chief Minister, the Education Minster and all have assured their full support in making this Scheme a success.
VIT is consistently ranked as the top private engineering institution in India by MHRD. Its first campus outside of South India was established here at Bhopal in 2017. VIT Bhopal is strategically located in the Indore-Bhopal corridor in a lush 150 acre campus with over 5,50,000 sqft of built up area. VIT Bhopal attracts students from  27 states and offers future ready programs such as Aerospace, Bioengineering, Artificial Intelligence, Cybersecurity & Gaming. The special features of the VIT Bhopal University are that it has 100% doctorate faculty, a unique feature in the country, to enable conceptual learning the integrated studio class rooms provide  both theory and practical learning at the same place, to name a few.
VIT Bhopal has stellar placement record with 100% Placement of the first batch of MCA.  The highest CTC offered is Rs. 9 lakhs.
During the press conference Miss Kadhambari S Viswanathan, Assistant Vice-President briefed the media on the contribution of VIT Bhopal University to the State of Madhya Pradesh. Vice Chancellor Dr. P. Gunasekaran welcomed the participants and gave vote of thanks to all the participants of this meet.
---