National annual conclave on Cyber Security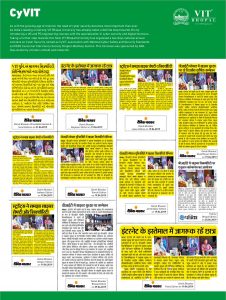 National annual conclave on Cyber Security
As with the growing age of internet, the need of cyber security becomes most important than ever. As India's leading university, VIT Bhopal University has already taken a definite step towards this by introducing a UG and PG engineering courses with the specialization in cyber security and digital forensics.
Taking a further step towards this field, VIT Bhopal University has organised a two days national annual conclave on Cyber Security named as CyVIT, association with National Cyber Safety and Security Standards and IEEE Consumer Electronics Society Chapter-Bombay Section. This Conclave was sponsored by GAIL (Gas Authority of India Limited) and Indian Oil.
Renowned stalwarts from the industries and academics came to grace the inaugural edition of this conclave. The inauguration ceremony was organised on the first of this conclave with the presence of the chief guest Dr. Rahul Tyagi, Co-founder, Lucideus and the guest of honour Dr. Khaliraj, Additional Director General, National Cyber Safety and Security Standards. After the lamp lighting ceremony, Dr. Jayasankar Variyar, Executive Director of VIT Bhopal University, gave the welcome address. The guests were welcomed with a bouquet and souvenir. Dr. Shishir Kumar Shandilya, Division Head of Cyber Security & Digital Forensics under the School of Computing Science & Engineering, VIT Bhopal University outlined the programs to be held in this two-day Conclave. The chief guest of the program Mr. Rahul Tyagi, co-founder, Lucideus, advised the students to be aware while using social media and the internet. He also added that knowingly or unknowingly their personal information can reach to other people and they can misuse it.  Describing the importance of cyber security, Dr. Khaliraj, the guest of honour of the event, explained the policies and proposals of the Government of India. He also shared his long association with VIT University and appreciated the efforts to organise the event. Vice Chancellor of VIT Bhopal University, Dr. P Gunasekaran, while giving his presidential address, appreciated the efforts of Cyber Security Division of VIT Bhopal and also thanked Mr. Rahul Tyagi and Dr. Khaliraj for the support and cooperation. He motivated the attendees to contribute at national and international levels in the field of cyber security. The inauguration program concludes with the thanksgiving of Dr. Sountharrajan. The inaugural program was conducted by Swasthi Choubey, a student of VIT Bhopal.
On the first day of the conclave, a panel discussion was organised in which Mr. Rahul Tyagi, Co-founder, Lucideus, Dr. Khaliraj, Additional Director General, National Cyber Safety and Security Standards, Syed Khalim, Senior System Analyst, Bank of America, Hyderabad and Dr. Shishir Kumar Shandilya, Division Head, Cyber Security participated as a subject specialist. This session was hosted by Dr. Sugavaneshwar. Responding to the student's question, Mr. Rahul Tyagi said that at present, the companies are awake when they get a cyber-attack. He also mentioned that quantification of cyber security is a very important thing in today's time, the service providers should know how much their system is secured. He told that Lucideus has given cyber security assessment for the first time in the world and the client can know in real time about the cyber ​​security threats and it's level. While addressing the students, he said that degree can help you reach the interview but skills sets can only reach take you towards your goals. While appreciating the cyber security specialisation course brought by VIT Bhopal, he said that students should take up different types of certification courses from the first semester itself so that after four years, they can achieve all the skillsets that is required for the field. There is a demand and they can work or establish their enterprise wherever they want.
The second day kick started with outlining the programs to be held throughout the second day. The first session was a webinar on IoT security presented by Muthpavitran Selvam, De Mont Ford University UK. He talked on the topic of IoT security and implementation of secure IoT structures in existing technology. IoT security being the most recent and important topic of today's cyber world as most of the devices around us use embedded technology such as washing machine, Television, Smart watches and almost anything which has smart in its name. A session on Defensive security is given by Nalinikanth M and Abilash Rajasekaran from Thought Works Inc. They discussed about the topics covering from general security to corporate security structure and how to secure networks using defensive actions and testing. They also suggested that all corporates firm should have a better security as they are the good targets for the cyber attackers.
Event further progresses with a webinar by Rene F. Bernard, CEO-LuxTag Malysia, on topic of Digital Security for Physical Assets using Block Chain Technologies. He talked about how we can provide authenticity and transparency in industries while providing security to all the products including daily needs like fashion, food, and utilities using decentralized distributed robust block chain system. In the post lunch, question/answer session is conducted where all the dignitaries answered the queries asked by the enthusiastic attendees. The event is concluded with an interactive session of Dr. Anirban Sengupta, Associate Professor, Indian Institute of Technology, Indore on the topic "Paradigms for Hardware Security of CE Systems". Prof. Anirban specifically talked about enhancing the security using innovative researches.
Valedictory speech is given by Dr. Shishir Kumar Shandilya. He thanked all the coordinators and the renowned dignitaries for their support. He also told that next year this Conclave will be in much bigger scale.  Finally certificates are distributed among the participants.
---