stars scheme counselling at vit bhopal university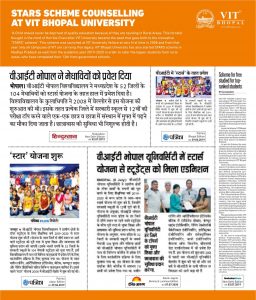 stars scheme counselling at vit bhopal university
"A Child should never be deprived of quality education because of they are residing in Rural Areas. This forceful thought in the mind of Hon'ble Chancellor VIT University became the seed that gave birth to the innovative "STARS" scheme". This scheme was launched at VIT University Vellore at very first time in 2008 and from that year only all campuses of VIT are carrying that legacy. VIT Bhopal University has also started STARS scheme in Madhya Pradesh as well from the academic year 2019-2020 in order to cater the topper students from rural areas, who have completed their 12th from government schools. As per the Scheme VIT Bhopal University would provide completely free education and hostel facility to the top most ranked among male and female students from each district of Madhya Pradesh. As per the Scheme the most meritorious 104 male and female students of Government Schools from the 52 districts of Madhya Pradesh  were called for the Counselling process to give the admission in various courses that are running in VIT Bhopal University. Under this scheme approximately 70 students were admitted yesterday in various courses like M.Tech. Integrated Program in Machine learning & Artificial intelligence, B.Tech. in Computer Science Engineering, Gaming technology, artificial intelligence 7 machine learning, Mechanical Engineering, Electrical Engineering & Electronics Engineering, Bio Engineering, Bachelor of Business Administration, B.Sc. in Data Analytics.
The Vellore Institute of Technology ranks amongst the top educational institutions in the country,  has two years back established here the VIT Bhopal University imparting high quality technical education and integrated development to the students. The special features of the VIT Bhopal University are that it has 100% doctorate faculty, a unique feature in the country, to enable conceptual learning the integrated studio class rooms provide  both theory and practical learning at the same place, to name a few.
At the end of counselling Shri Sankar Vishwanathan, Vice President VIT university, Miss Kadambari S Viswanathan the Assistant Vice-President VIT Bhopal University have handed over the admission letters to all the meritorious students.   Shri Mukesh Sharma Nodal Officer STARS Scheme from School education, Vice Chancellor VIT Bhopal University Dr. P. Gunasegaram, Mr. K.K. Nair Registrar and Dr. Amita Mahor STARS scheme coordinator VIT Bhopal university were also present  at this occasion.
---