FRESHERS ORIENTATION PROGRAM AT VIT BHOPAL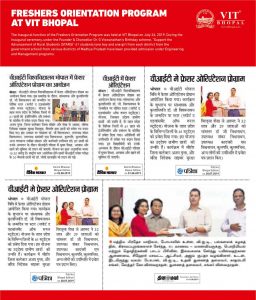 FRESHERS ORIENTATION PROGRAM AT VIT BHOPAL
The Inaugural function of the Freshers Orientation Program was held at VIT Bhopal on July 26, 2019.
During the Inaugural ceremony, under the Founder & Chancellor Dr. G Viswanathan's Birthday scheme, "Support the Advancement of Rural Students (STARS)" 61 students (one boy and one girl from each district from the government school) from various districts of Madhya Pradesh have been provided admission under Engineering and Management programs.
32 boys and 29 girls were given admission letters by Shri Ajay Gupta Collector Distt. Sehore and Mr. Shaik J Ahmed, Senior Director Cyber Security VIRTUSA, Bangalore, in the presence of Chancellor Dr. G Viswanathan, Vice President Mr. Shankar Viswanathan, Asstt. Vice President Ms. Kadhambari S Viswanathan, Vice Chancellor, Registrar, other dignitaries faculty and staff. The students will be provided free education, boarding and lodging at VIT campus during their course of study. The total estimated budget of the scheme is   10.30 Cr.  Dr.GV scholarships were also awarded to 30 meritorious students, of the National level VIT entrance examination. The scholarship offers 100 to 25 percent tuition fee waiver.
---