Chemistry Lab
Chemistry Lab
In Chemistry lab,Chemistry is not just lab apparatus, liquids and gases. It can unravel many hidden secrets in the world and right application is the key to get desired results.
In Chemistry lab, the theory classes taught in classrooms will come to life in the form of demonstrations and students can learn the application side of it. Chemistry experiments require amazing co-ordination, interaction, teamwork and scientific creativity to be applied practically.
Some of the interesting activities would include: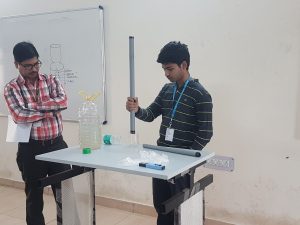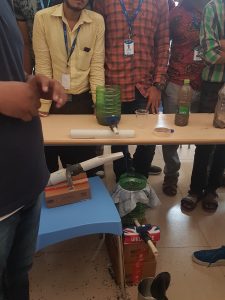 Students-made water filters
Students worked in groups, and using their scientific creativity and engineering skills, made water filters. Some of these filters worked as good as the commercial water filters but much cheaper than them.
Corrosion of objects is a common issue. To demonstrate how an object corrodes, we created a setup where iron nails are immersed in solutions resembling different environmental conditions, such as humidity, soil etc. Students discussed and figured out which conditions are more detrimental to iron objects.
Students used everyday objects and the concepts learned in class to demonstrate Electroplating. They showed how electroplating method can be used to galvanize an iron nail and protect it from being corroded.
As the dissolved oxygen in water is relevant to its uses in drinking, agriculture and for the aquatic life, students used chemicals such as MnSO4, KI and starch, to measure the concentration of dissolved oxygen in a given water sample.
In addition to these, students used knowledge of titration and electrochemistry to study the chemical composition of objects such as brass.
---