Demystifying Cloud Computing: Your Guide to the Future of Technology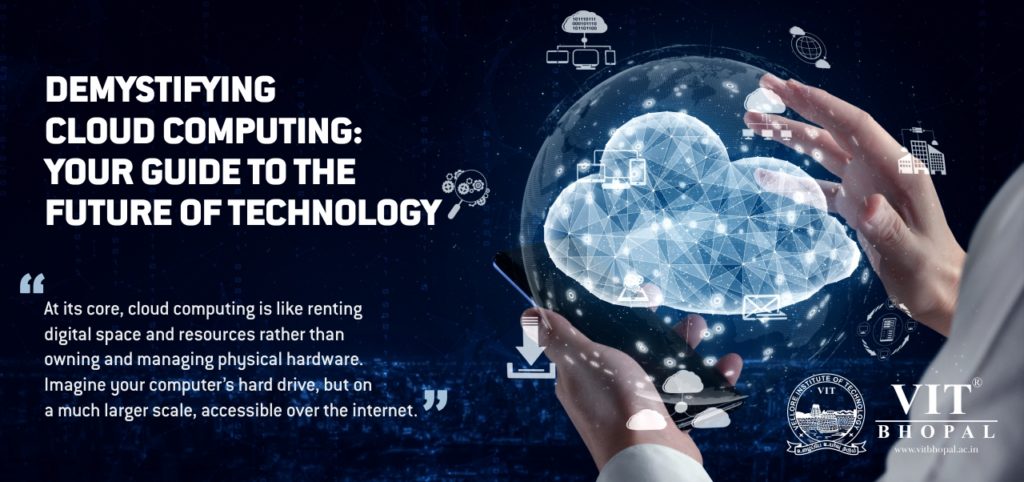 At its core, cloud computing is like renting digital space and resources rather than owning and managing physical hardware. Imagine your computer's hard drive, but on a much larger scale, accessible over the internet. This "cloud" of resources includes servers, storage, databases, networking, software, and more. Instead of relying solely on your computer's power, you can tap into this vast digital landscape to perform tasks and store data.
Cloud computing isn't a one-size-fits-all concept. It comes in different flavors, catering to various needs:
Infrastructure as a Service (IaaS):
Think of IaaS as a DIY cloud. It provides you with the basic building blocks to create your own virtual environment. Need a server? You got it. How about storage or networking components? They're there too. With IaaS, you have the flexibility to set up and manage your virtual infrastructure, much like building with digital Lego blocks.
Platform as a Service (PaaS):
PaaS takes things up a notch by providing not just the infrastructure but also the tools and environment for developers to build, deploy, and manage applications. It's like having a fully equipped kitchen (complete with utensils and appliances) where you can cook up your software recipes without worrying about the underlying infrastructure.
Software as a Service (SaaS):
SaaS is like dining at a restaurant. You're served a ready-to-use application over the internet. No installation or setup required. From email services and office tools to entertainment platforms, SaaS applications are designed to make your life easier by taking care of all the technical details.
The Perks of Cloud Computing
So, why should you care about cloud computing? Here are some compelling benefits:
Cost Savings:
With cloud computing, you can say goodbye to hefty upfront hardware costs. Cloud services operate on a pay-as-you-go model, allowing you to scale resources up or down based on your needs. This flexibility means you're not paying for more than you use, which is a win for your wallet.
Accessibility:
Remember the days when you had to carry around a USB drive to access your files on different devices? Cloud computing eliminates that hassle. Your data and applications are accessible from anywhere with an internet connection. All you need is a device to connect to the cloud.
Scalability:
Got a sudden surge in website traffic or a new project? Cloud computing lets you scale your resources quickly to meet these demands. No need to wait weeks for new hardware to arrive – just a few clicks, and you're ready to roll.
Collaboration Made Easy:
Cloud services promote seamless collaboration. Multiple users can work on the same document simultaneously, regardless of their location. This real-time collaboration ensures everyone stays on the same page, boosting productivity.
Security and Reliability:
Contrary to what you might think, cloud providers invest heavily in security measures. Your data is often safer in the cloud than on a physical device prone to theft or hardware failure. Additionally, cloud services offer data redundancy and disaster recovery options, ensuring your valuable information stays intact.
Embracing the Cloud: A Future Perspective
Cloud computing isn't just a passing trend – it's shaping the future of technology. As more businesses and individuals realize its potential, cloud services will continue to evolve. Here are a couple of exciting trends on the horizon:
Edge Computing:
Edge computing brings processing closer to the data source, reducing latency and improving real-time capabilities. This is especially important for applications like IoT devices that require quick responses.
Serverless Computing:
Serverless computing abstracts server management, allowing developers to focus solely on writing code. Cloud providers handle the infrastructure, resulting in more efficient resource utilization.
In a nutshell, cloud computing is a game-changer that offers cost savings, accessibility, scalability, and enhanced collaboration. It's a versatile tool that empowers businesses and individuals alike. So, the next time you upload a photo, stream a movie, or collaborate on a document, remember that you're likely benefiting from the wonders of cloud computing – the technology that's making our digital world smarter, more connected, and more convenient than ever before.
Dr. Virendra Singh Kushwah
Cloud Computing & automation.
VIT Bhopal University.
---