Annual Cyber Security Conclave CyVIT 2020 organized by VIT Bhopal goes Online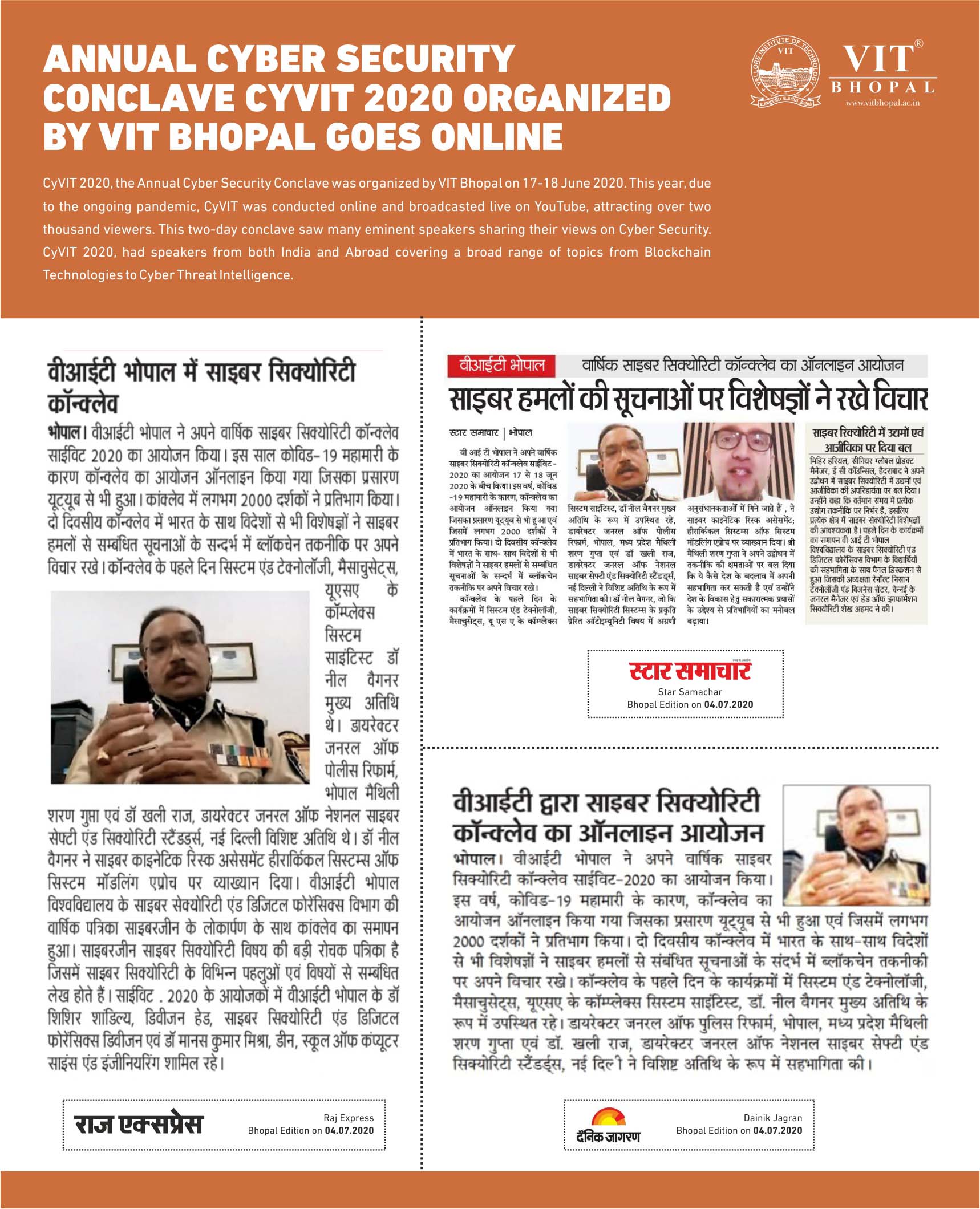 CyVIT 2020, the Annual Cyber Security Conclave was organized by VIT Bhopal on 17-18 June 2020. This year, due to the ongoing pandemic, CyVIT was conducted online and broadcasted live on YouTube, attracting over two thousand viewers. This two-day conclave saw many eminent speakers sharing their views on Cyber Security. CyVIT 2020, had speakers from both India and Abroad covering a broad range of topics from Blockchain Technologies to Cyber Threat Intelligence.
Day 1 saw the opening of the conclave with Dr. Neal Wagner, Complex System Scientist at Systems &Technology Research, Massachusetts USA as the Chief Guest.  Shri. Maithili Sharan Gupta, Director General of Police Reforms, Bhopal MP and Dr. Khalie Raaj Director General of National Cyber Safety & Security Standards, New Delhi were the Guests of Honor. Dr. Neal Wagner, who is a leading researcher on nature-inspired autoimmunity of cybersecurity systems, gave his opening address on Cyber-Kinetic Combat Risk Assessment: Hierarchical Systems-of-Systems Modeling Approach. Shri Maithili Sharan Gupta, in his insightful address, stressed on how technology has the potential to change our country and motivated the participants to work enthusiastically for the development of the country. This was followed by a session on inevitability of a career in Cybersecurity, by Mr. Mihir Haryal, Senior Global Product Manager at EC Council, Hyderabad. He emphasized that every industry today is intrinsically connected to technology and hence in need of Cybersecurity specialists. Day 1 concluded with an intense Panel discussion by the students of the Cyber Security and Digital Forensics division of VIT Bhopal which was chaired by Mr. Shaik Ahmed, General Manager and Head of Information Security at Renault Nissan Technology & Business Centre (RNTBCI), Chennai.
Day 2 of the conclave began with greater enthusiasm and zeal with Mr. Govil Rajpal Security Engineering Director, India and SAARC from Check Point Software Technologies Ltd as the first speaker. He discussed about the New Generation of Threats and Absolute Zero Trust Security. The next session was taken by Mr. Rene Bernard Chief Executive Officer at Luxtag, Malaysia, who gave an in-depth talk on The Dilemma of Blockchain Adoption in Real Industries. His talk was an eye-opener for all those wishing to pursue a career in Blockchain technologies.  The next speaker of the conclave was Dr. Vinti Agarwal, who addressed on Cyber threat Intelligence using Machine Learning. The 2-day conclave was concluded with the launch of Cyberzine, the annual Cybersecurity magazine of the Department of Cybersecurity and Digital Forensics at VIT Bhopal. Cyberzine is an interesting magazine that covers a wide variety of topics pertaining to cybersecurity. It is a quintessential addition to every cybersecurity enthusiast's collection.
The organizing chairs of CyVIT 2020 were Dr. Shishir K Shandilya, Division Head of Cyber Security & Digital Forensics Division and Dr. Manas Kumar Mishra, Dean, School of Computing Science & Engineering, VIT Bhopal. Assistant Vice President, VIT Bhopal Ms. Kadhambari S. Viswanathan and Vice Chancellor Dr. P. Gunasekaran appreciated the efforts of students and faculty, in making this annual event a grand success.
---