Opportunities in no paucity, at VIT Bhopal!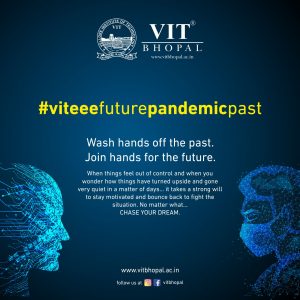 Opportunities in no paucity, at VIT Bhopal!
–  #viteefuturepandemicpast
The COVID-19 pandemic has caused an unparalleled health and humanitarian crisis. The necessary measures taken have slowed down the economic growth. At this point, there is great uncertainty about the pandemic severity and length. It has not only put global health system into question but has also resulted in wrecking the economic front of all Nations. The latest Global Financial Stability Report shows that the financial system has already felt a dramatic impact, and further intensification of the crisis could affect global financial stability. Fear and uncertainty have eclipsed companies, resulting in layoffs and wage cuts of employees.
This most certainly brings us down to one most important question i.e. how are higher education institutions preparing to support their students, especially the ones who are looking forward to join the country's workforce by the end of the academic year 2020-21?
The past placement statistics of VIT speak well for itself. In the year 2007- 08, when the world and also our country were going through a similar economic crisis and hiring freeze, VIT University managed to provide its students a good number of job opportunities bringing 330 companies for placements which included Dream and Super dream offers.
Due to the current pandemic situation we are in a similar state of crisis, and rather than giving out false hopes, the VIT Placement cell, which is centralized for all the VIT campuses, is rigorously working towards getting better internships, webinars and training programs to enhance student's professional skills,  for getting better  job opportunities and high salary packages.
VIT becomes the first Institution in India to start and score the first century in campus placements for 2021 batch
M.Tech internships
Intel -106 students (stipend- 40k, CTC on conversion -18 lakhs)
Qualcomm -5 students(stipend 45k, CTC on conversion- 29 lakhs)
VMware – 2 students (Stipend 40K, CTC on conversion  – 19.5 lakhs)
MediaTek- 9 students( Stipend 33k CTC on conversion –  13 laksh)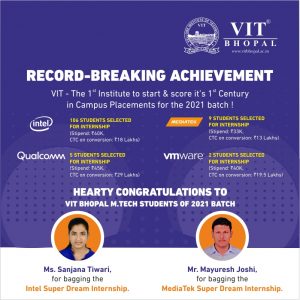 In the constantly changing ecosystem, it is very important to focus on skills that are relevant for the future. VIT Bhopal has identified programmes to acquire and enhance such requirements. So, be assured that we together will sail through all this, towards success and achievement in this highly competitive world.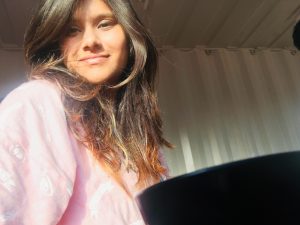 NIHARIKA SINGH
18BCE10171
---