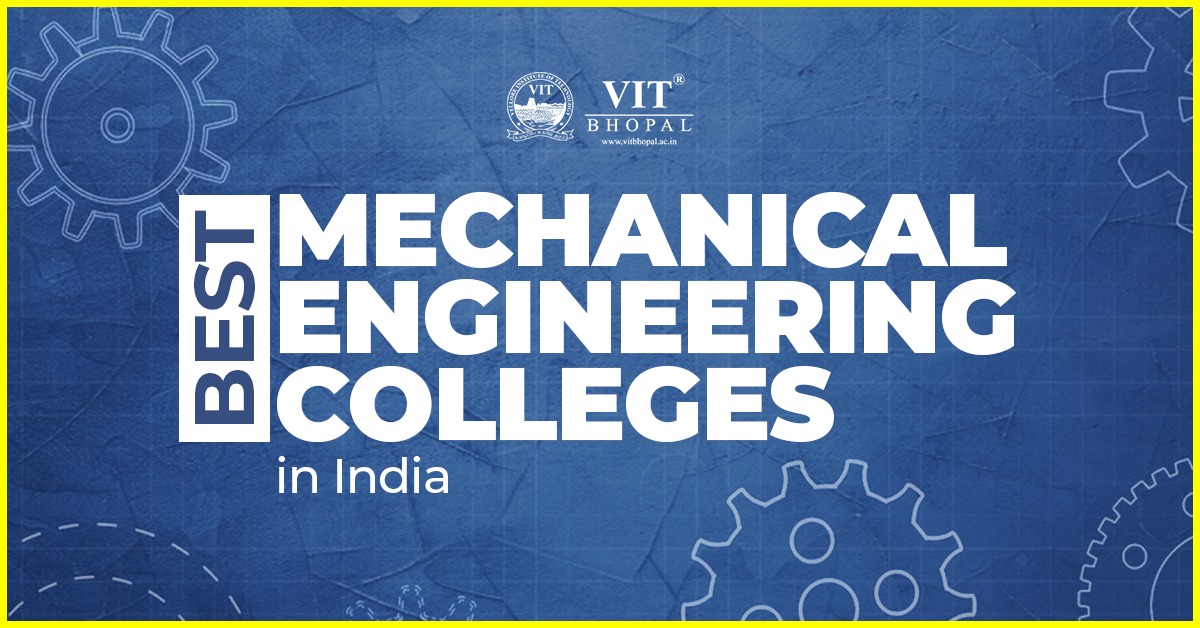 Best Mechanical Engineering Colleges in India
Introduction
Million of students are coming forward to pursue their degree in engineering courses in India. Mechanical Engineering is one of the most demanded engineering courses of the era. The applications of this field are required in all industries. Mechanical Engineering offers a wide variety of career opportunities to job aspirants. So it is necessary to choose the Best Mechanical Engineering Colleges in India.
What is Mechanical Engineering Course?
The field of mechanical engineering, considered to be one of the broadest fields of engineering, deals with design, construction, manufacturing, and utilization of machines. The program endows the students with basic contemplation & understanding of heavy tools and machinery knowledge with extensive hands on experience. Students pursuing mechanical engineering acquire in-depth knowledge, and skills in specializations like design of automobiles, electric motors, aircraft and other heavy vehicles.  Mechanical engineers design everything from new batteries, athletic equipment, to medical devices and from personal devices such as computers, air conditioners, automobile engines to electric power plants. Many innovations in technology are attributed to mechanical engineers!
Mechanical Engineering is normally considered as the base of all branches of engineering. Today it has crossed its traditional borders and has emerged as a specialization with applications in nanotechnology, biomechanics, material science, energy conservation and much more. This field of study has a vast scope in India and abroad in manufacturing, aerospace and automotive industries.  Spanning such multiple ranges of industries, the career opportunities for students pursuing this program is mighty positive. Individuals undertaking this course will be trained in the fields of manufacturing processes, thermodynamics, system engineering, IT, networking, robotics technology and basic shop floor communications. These will help them gain the experience in the various spheres of technology.
A typical Mechanical engineer performs the following tasks:
 •   Design of mechanical/thermal devices.
•    Investigation of equipment failures.
•    Hardware implementation and testing of prototypes
•    Critical Analysis of test results and improve them accordingly.
•    Monitor the manufacturing process of equipment.
In the past few years with the development in Robotics, Artificial Intelligence, and Machine Learning, this core branch has reached new horizons beyond compare. Students pursuing a B. Tech course in Mechanical Engineering undertake new product development using these advanced techniques. In the future, students will mainly study interdisciplinary courses like Mechatronics, Automation which mainly requires knowledge of coding and control systems. Therefore students joining this B. Tech course shall be eligible for a large spectrum of job profiles compared to others.
A Mechanical engineering graduate is suitable for employment in the sectors of manufacturing industries, maintenance work, automobile manufacturing and maintenance industries, refrigeration industries/air conditioning industries etc.
    Top companies hiring mechanical engineers are, 
Escorts

Tecumseh

Hindustan Aeronautics Limited (HAL)

BHEL

NTPC

NHPC

JCB

Hero Honda

Railways, Armed forces and

Software companies like TCS, Infosys, and L&T, and other small scale industries.
The work and salary of a mechanical engineer vary at times and can include anything from providing small solutions to the development of large plants and vehicles. Mechanical engineers are needed in most industries and can be involved in all aspects of work from research and development to manufacturing, management, and production. The average Mechanical engineering graduate earns between $52,500 – $101,600 annually, placing them in the 7th position for the highest paid job category and when we consider only our country India, statistics say that an individual earns around ₹350,556 annually.
Eligibility Criteria
Mechanical engineering can be studied at under graduation and post-graduation level as B.Tech and M.Tech courses respectively.  
The basic eligibility criteria to pursue the course of mechanical engineering are –
UG – passed class 10+2 exam from a recognized board with physics, chemistry and math as core subjects with an aggregate of 60%.

PG – completed B.Tech in the same specialization with a passing percentage of the subjects studied at the degree level.
Best Mechanical Engineering colleges in India.
As I said, Mechanical engineering is the most popular course in India, which is why there is cut-throat competition to get admission in Best Mechanical Engineering colleges in India.