VIT Bhopal has a dedicated Placement and Training center for helping the students achieve their objectives. The PAT cell makes sure that all the students are well- versed in coding and aptitude skills for better performance in the placement interviews. It helps the students to prepare for placement interviews in technical and HR aspects by arranging meetings with professional trainers and VIT alumni. It also ensures that the students are well-prepared in group discussions.
In this placement drive, the students are offered with the Cost to Company (CTC) of 10 Lakhs and above per annum. Last year, about 50 companies offered such placements. Among them, Google has offered the highest CTC of 39 lakhs per annum. 14 students have got their placement in Google with the Super Dream Offer.
In Dream placement drive , the students are offered with Cost to Company (CTC) of 4.5 Lakhs and above per annum. More than 300 invited companies enable students to have multiple choices in the dream placement category. They can choose among various streams including IT Services, product consulting, banking, core engineering companies among other options. Such placement opportunities allow the students to freely select the offer that is present in their area of interest.
VIT is a proud holder for the Limca book of records for the highest number of recruitments through placements done from a single institution by IT sector companies for 7 years. Cognizant, TATA Consultancy Services, Accenture, Wipro, and Infosys are a few names in the IT sector that have their placement bases in VIT. These companies have had about 8,000 placements in the year 2016 and the number seems to increase every year.
Also, the placement cell in VIT is in charge of students' internships. Apart from placements for students in their final year, the placement cell provides international internships with leading MNCs across the globe. An average of 10 students every year get an opportunity for internships in USA, UK, Ireland, Japan, China, Israel, Taiwan, UAE, Kenya, Germany, Nigeria and Italy. These internship programs help the students to earn a stipend, in addition to hands-on experience and practical application of everything they have learned.
While VIT ensures that all its students obtain placement in leading MNCs, it also makes sure that they get internships and have valuable work experience.

VIT ensures the best placements for its students. The university has a central placement system for all the campuses through the VIT placement cell similar to the centralized admission procedure followed for all VIT campuses.
Through the VIT placement cell, the graduating students of 2018 batch MCA, VIT Bhopal have been placed in top companies like Infosys, Cognizant, TCS, Cerner Corp. etc; and the graduating students of 2019 batch MCA have also shown excellent placement records with selections in companies like Virtusa, Federal Bank, Netapp, Infosys, TCS, Cognizant etc.

B.Tech -VIT Bhopal PLACEMENT Records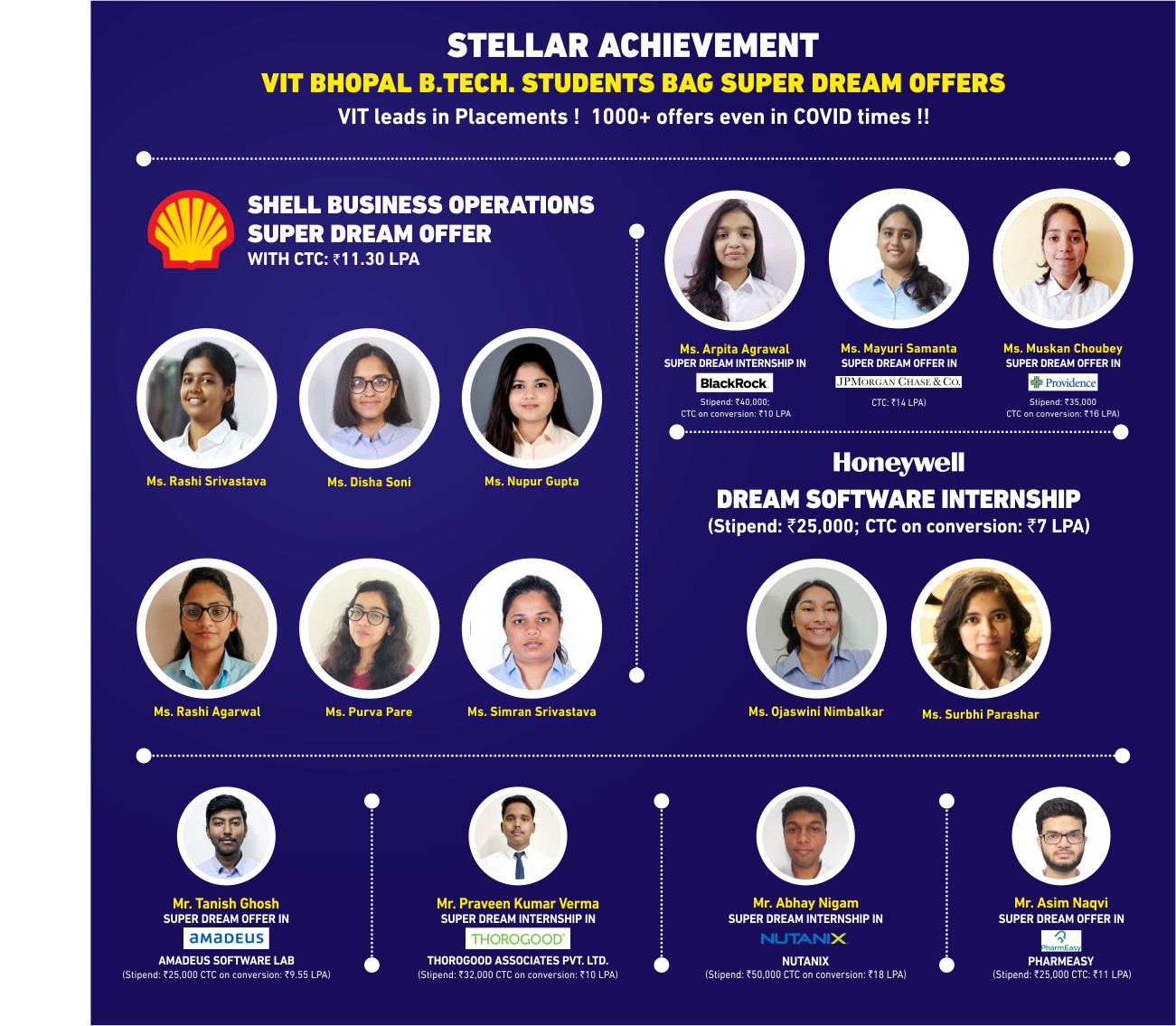 M.Tech -VIT Bhopal PLACEMENT Records

MCA -VIT Bhopal PLACEMENT Records

BBA -VIT Bhopal PLACEMENT Records

Special trainers are allocated to each campus.
4 tests per week.
12 hours per week dedicated for placement training.
Monthly mock interview sessions by corporate professionals.