Kadhambari S. Viswanathan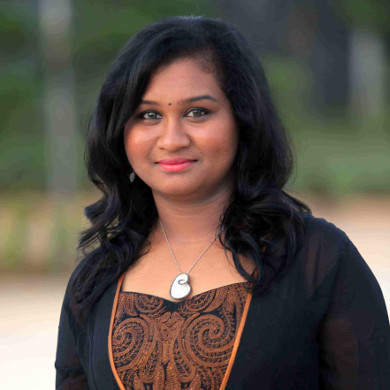 Ms. Kadhambari completed school education at Vellore, and obtained her B. Tech (Biotechnology) from VIT University in 2010. In 2007, she registered at the Summer School in Johns Hopkins University, USA, and utilized the opportunity to compare the curriculum of Johns Hopkins with that of Indian Universities. Her stint at Johns Hopkins provided her with an excellent opportunity to interact with students from various countries and with faculty members of high academic caliber. In 2009, she pursued her summer internship in one of the best Cancer Research institutes in Europe, the DKFZ., Heidelberg, Germany. This visit exposed her to cutting edge research and developmental techniques in the field.
After graduation in Biotechnology from VIT University, Kadhambari joined the prestigious Bloomberg School of Public Health at Johns Hopkins University, Baltimore, USA for Masters in Health Sciences.
On completion of her Masters degree in May 2011, she returned to India and registered for Ph.D in VIT University to pursue research in Higher Education Leadership. As part of her doctoral research, she spent one month at University of Malaya, Malaysia to make a comparative study of higher education.
Extracurricular Achievements
At an early age of twelve, Kadhambari authored the biography of her grand father and Chancellor of VIT University, Dr. G. Viswanathan, titled "My Granpa" . She has been honoured by the Limca Book of Records as the youngest biographer in India. She had the privilege of personally interacting with Dr. A. P. J. Abdul Kalam and Dr. R. Venkataraman the former Presidents of India, the former Prime Minister Shri Atal Bihari Vajpayee and the President of Rwanda, Dr. Paul Kagame. These interactions have motivated her to march forward to achieve bigger and better goals in life.
She started her foreign travel at a tender age 9 to participate in Education Exhibitions and Seminars in Asia, Africa and Europe. She has travelled widely, and has so far visited 26 countries across five continents.