Education technology facilitates the learning process and improves the quality of education. Over the last decade, the education domain has shifted from teacher-centric to learner-centric, and now to collaborative and active learning. Furthermore, information technology has progressed from stand-alone computing systems to distributed computing systems, and now to automotive computing systems. In the form of Educational Technology, combining the areas of education and information technology affects the learning environment, teaching approaches, student learning, and corporate operations.
Teachers can use educational software and technology to make their classes more interesting and enriching. Teachers can employ technology to imitate real-world learning opportunities and provide students with access to research materials. Technology also aids education access, particularly as schools struggle to adapt to remote learning in the midst of the ongoing COVID-19 pandemic. Increased smartphone usage and a shift to digital-learning paradigms have accelerated this trend.
Both Covid 19 and Industry 4.0 have revolutionized the educational system. This degree program prepares educators how to use technology effectively in the classroom. Curriculum supervisors and instructional coaches can use this degree to help instructors learn how to use new technology effectively. Educators' expertise is needed in many areas, including the development of online learning platforms and new software solutions for the education business.
In 2021, AI and Machine Learning are expected to have a 47 percent increase in influence in Educational Technology. The capacity of these technologies to automate even the most fundamental functions, such as grading, communication, inquiries, feedback, evaluation, and progress, enhances the entire user experience. Learning will become more dynamic in the future. The future of education would be hybrid, multilingual, and personalized. This paradigm shift demands the graduate as an educational specialist in order to work as an educational consultant, solution architect, or edutect developer. Academic credit banks and learning autonomy are emphasized in the National Education Policy (NEP). This opens up a number of possibilities for digital solutions.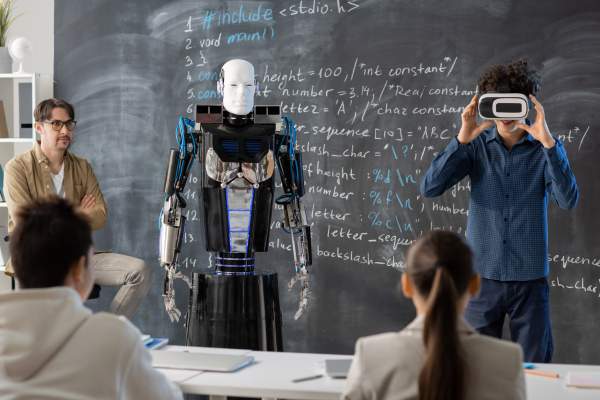 About Education Technology @VIT Bhopal

Understanding the programme a little better
VIT Bhopal's four-year B.Tech CSE (Educational Technology) prepares young graduates for careers as instructional designers (who plan and prepare instructional programmes), educational consultants (who work with professional educators to improve the quality of teaching and learning), educational technology specialists (who assist others in designing, planning, and using technology in schools, universities, and similar settings), and more.
Programmes Offered
B. Tech CSE (Education Technology)
Curriculum Highlights
Higher Education and its Ecosystem

Science of learning

Brain and learning

Cognitive Psychology

Teaching Philosophy

Curriculum Design

Instructional Design

Learning Strategies

Assessment and Evaluation

Learning Analytics

Educational Data Mining

Personalized Learning

Gamified Learning

Adaptive Tutoring System

Intelligent Tutoring System

MOOC Creation

AR / VR / MR in Education

Learning Management System, Content Management System, and Technology Integration

ICT-Enabled ET Application Development

ICT-Enabled ET Infrastructure

E-Learning Tools and Techniques for Online Learning

Virtual and Simulation Platforms

Interactive Video Creation

Personal-Emotional Development and Counseling

National Educational Policy

Outcome-Based Education

Conceive Design Implement Operate

Research, Professional Development, and Academic Leadership
Career Avenues
E-Learning has become a booming industry that gives an avenue to learn anytime and anywhere. Several Instruction Design Companies generate revenue in terms of providing solutions through AI-enabled software.
E-Learning Instructional Designer
Media Specialist
Instructional Technology Specialist
AR Design Architect
VR Design Architect
Gamification Script Writer
Online Education Platform Architect
LMS Architect
Project Manager
Educational Technology Market size statistics
The global Educational Technology market could reach $404 billion by 2025, as of August 2020.

Educational Technology is expected to have a compound annual growth rate (CAGR) of 18.1% year-over-year through 2027.

Indian Educational Technology industry's market size to reach $30 billion in 10 years

The current market size (2021) is about $700-800 million.

Previously dominated by the K-12 segment, the Educational Technology sector is now witnessing strong growth in the post-K-12 segment.

Online education offerings for the K-12 segment (Classes 1 to 12) are projected to increase 6.3X by 2022, creating a $1.7 billion market.

And the post-K12 market is set to grow 3.7X to touch $1.8 billion.

Between 2014 to H1 2020, these 219 unique startups combined raised a total funding of $2.2 Bn across 346 funding deals.