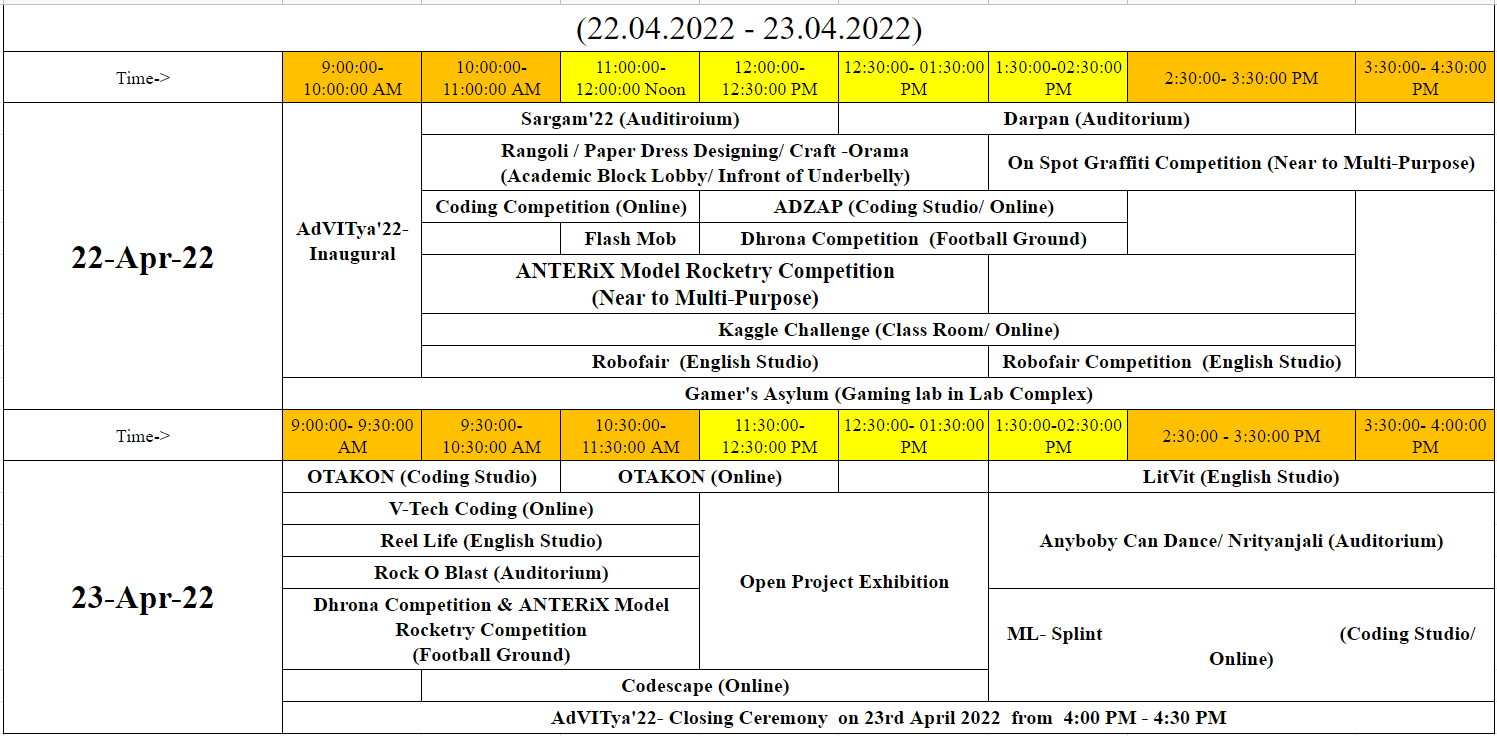 In January 2022 the Virtual Reality and Gaming club of VIT Bhopal University hosted its first online eSports event named "VITB Gamers Arena" and after that now it's time to take things offline and on the occasion of AdVITya 2022 we are back with the first ever LAN eSports tournament "VITB Gamers Asylum".
VITB Gamers Asylum is the first ever LAN eSports event hosted by VIT Bhopal University. The event will be having a LAN based tournament of the game title "VALORANT" which is an online 5 VS 5 Tactical Shooter game which is known to be one of the best PC games at the time. This event will help the students explore the newly growing eSports scene of India and will motivate the passionate students to reach new heights. The event will be having 8 to 16 teams battling out for the top spot. All the students will be provided with high speed LAN internet connections to perform their level best in the event without any interruptions. This event is going to be the first of many more LAN eSports events that VIT Bhopal University is going to host in the future hoping to leave footprints on the eSports map of India.
General Rules:
All Teams and Team Members must observe the highest standards of personal integrity and good sportsmanship at all times.
All the players have to bring their own devices and peripherals (ie Laptop, keyboard, mouse, headphone, mousepad ) for playing.
All the players have to bring their VIT BHOPAL ID CARDS to the venue or they will not be allowed to play
Anyone found abusing others using in game chat or verbally will be disqualified immediately
Team Members must behave in a professional and sportsmanlike manner in their interactions with other competitors, Tournament Officials, the Tournament Organizer.
Organizer's decisions will be final and binding in case of disputes.

Contact Details:
Faculty in-charge
Dr C.K Behera – 8847872575
Student In-charges
Pranav Kumar Vasudeva – 9793811133
Ripunjaya Tak – 7014252121
Abhigyan Chaudhary – 7317621310
About Sargam
After silence, music is the only medium nearest to expressing the inexpressible.
Music and Band Club of VIT Bhopal is organizing our most soulful event, 'Sargam '22' for AdVITya '22. Sargam is a singing competition where participants can showcase their musical skills on stage at the campus and capture the audience with their voices.
Interested participants are requested to fill up the Google Form attached below for the same.
Registration Link: https://forms.gle/mSv9qdut2JCrrXXZ8
Account details for registration:
Account name: VIT BHOPAL MUSIC AND BAND CLUB
Account number: 6565513289
VIT Bhopal Indian bank
Further information about the event will be informed to registered candidates subsequently.
For any queries, please contact:
Aadira Ramakrishnan
19BCG10012
Student Co-ordinator
Email: aadira.anil2019@vitbhopal.ac.in
Aryan Ahuja
19MIM10096
Student Co-Coordinator
Email: aryan.sunilahuja2019@vitbhopal.ac.in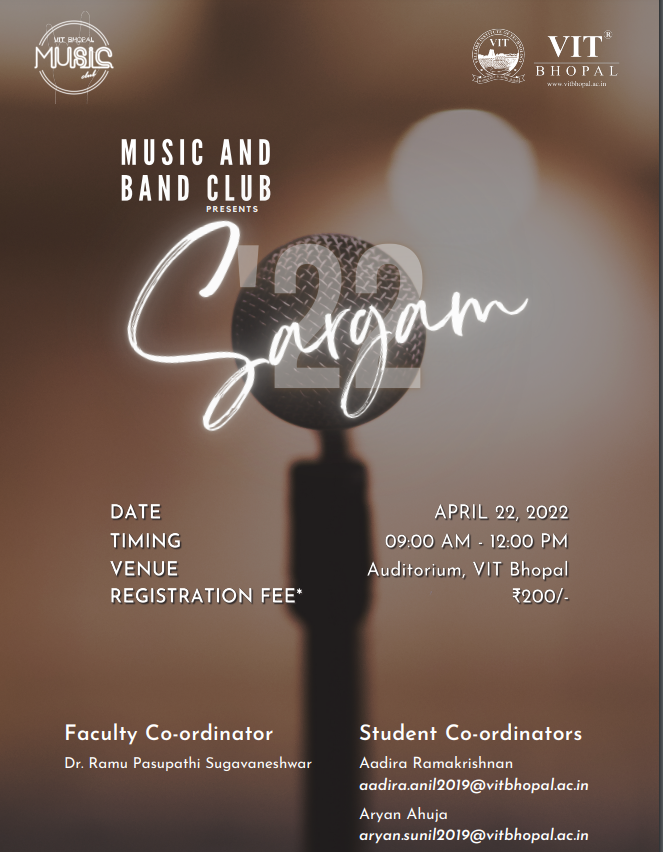 Rangoli / Paper Dress Designing / Craft Orama
On the occasion of ADVITYA and the Earth Day, The VIT Bhopal MERAKI -The Fine Arts Club is organizing an enthralling event for everyone with an interest, an idea and a vivid imagination.
Theme : Vasundhara
The participants are asked to make a piece of their imagination using discarded materials (The materials will be provided by the club for the offline participants). Participants will be given 3 hours to complete their piece, which will be evaluated by guest judges and prizes will be distributed accordingly.
Description
Theme Vasundhara: Meaning 'The Earth' the participants will be encouraged to make something that reflects on Mother Earth from discarded materials, as a way of giving back to nature. Materials to be used: The club will provide Cans, Pipes, Bamboos and Maggie Cups; Brush and basic colors will be provided to decorate these materials Note: Participants may bring additional colors or any other decorative apparatus as they please but only the Cans, Pipes, Bamboos and maggie cups are to be decorated as a submission for the event.
Coordinator Details
Faculty Coordinators
Dr Mamta Agrawal
Dr Jyoti Badge
Students Coordinators
Mr Shreyash Sompurkar -8308726321
Ms Sonalika Bharadwaj – 8920512006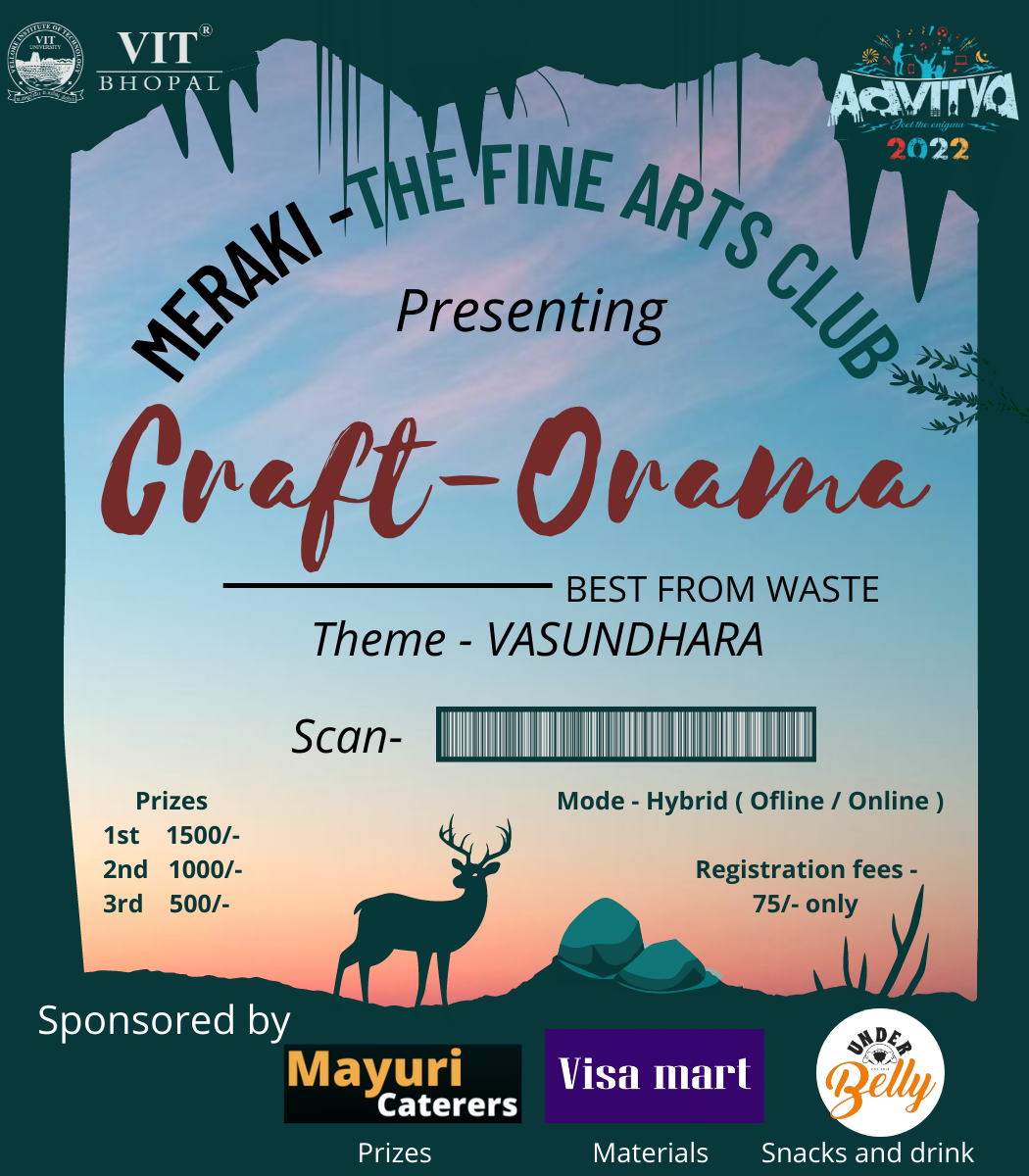 Kaggle Challenge is a competitive Machine Learning challenge that aims to inculcate competitive ML culture and give opportunity and knowledge to participants about Kaggle. The Challenge comes with a Problem statement that participants in teams can solve and develop accurate Machine learning models to clinch higher spots on the leaderboard.
Rules and Regulations:
One account per participant: You cannot sign up to Kaggle from multiple accounts and therefore you cannot submit from multiple accounts
No private sharing outside teams: Privately sharing code or data outside of teams is not permitted. It's okay to share code if made available to all participants on the forums.
Team Mergers are not allowed.
Team Limits: The maximum team size is 4.
You may select up to 2 final submissions for judging.
Contact details:
In case of queries, you may please contact the following student coordinators:
Rahul Sanjay Mandviya: 9823287419
Om Rajani: 9820604497
Kumar Prakhar: 7571044440
Rithuraj Nambiar: 9689838487
Areena Khan: 8910994068
Robofair Workshop + Competition
In this training program, the students will be learning about the fundamentals of electronics, motors, sensors, Robo cars, Arduino, programming, building Bluetooth controlled Robo car, Autonomous vehicle, etc. At the end of this program a competition will be conducted and the winners will get attractive prizes.
Content:
Fundamentals of Electronics, Sensors, and Motors
Learn Arduino and Programming,
Build hardware projects like Autonomous Robo cars, Bluetooth controlled cars, etc.
Training kits will be provided for building Robots and a competition on the same.
Contact details.
Dr. Anveshkumar Nella, 9503132874
Student Coordinators:
Kamal Soni: 9548670619
Mukul Agrawal: 8954261524
Darpan: Take us to a new dimension
Darpan provides you with a platform to stage your imagination and bring your tale to life. Prepare a solid crew of at most 15 people who will collaborate to create a 25-minute show that will enthral the audience.
Rules for Darpan:
1. The act can be in English or Hindi or both.
2. In a team, there is a max limit of 15 comprising the number of actors and support team.
3. Props and costumes should be self-sourced.
4. Time limit is 25 minutes. 5 mins extra will be provided for technical setup. Points will be deducted if exceeded.
5. Exact copying of scenes will be considered plagiarism, and the penalization will be left to judges' discretion.
6. No act shall contain any offensive, obscene, disrespectful actions or gestures, Profanity or abusive language of any kind is not encouraged. The act will be immediately stopped and the entry will be disqualified.
7. The Judgement will be based on:
1. Script and originality
2. Acting, Energy and Dialogue Delivery.
3. Lights and Music
4. Direction & Coherence in implementation.
5. Creativity and Overall Impact.
Event 1 : Movie screening
We will be screening an anime movie "A Silent Voice/ Koe no Katachi" for a theater-like experience.
Time : 23 April 2022 8:45 am – 11:00 am
Venue : Coding Studio
Event 2 : AMV Competition
In this event, we will be taking amv submissions and find the 10 best amv of all the submissions and show them in the event. The ranking will be decided based on the audience vote but will the audience be there just to vote? That's not much fun so we decided to add a challenge for the audience too.
Challenge for audience: You will have to note down all the names of the anime shown in the respected amvs
Rules:
1. Only one AMV submission per person is allowed but you can edit your response until 11:59 PM 20 April 2022.
2. Hentai and NSFW are strictly prohibited.
3. Last date for submission is 11:59PM 20 April 2022 sharply.
4. Whoever gets in the top 10 cannot participate in the audience challenge.
5. No teams allowed
Coordinators :
Vishvas patel – 6351157648
Girik garg – 84458 31464
To conduct a coding competition for the B. Tech. students for providing an exposure for their career growth. This event will also help students to prepare a mind set for various events like Hackathone, Online Coding Competitions, Implementing Real Life based projects etc.
Rules and Regulations:
The mode of the Event is Online mode.
Maximum 5 members are allowed per team.
During the judging round the evaluation of the website will be done in two phases
Presentation of front end and website presentation
5 minute for presentation and 2 min. for QnA.
5 min. for Inspection of backend coding and 2 min. for QnA.
Registration fees for each team is 250 Rs.
It is expected from the participants to make a user-friendly website.
Additional functionality should be included in the website.
Topics/problems will be communicated 24 hours before the event so that you have sufficient time to create an attractive and functional website.
Faculty Coordinators
a. 100212, Dr. Virendra Singh Kushwah, 7415869616
b. 100309, Dr. Mahendra Pratap Yadav, 9125933765
c. 100212, Mr. Dileep Singh Rathore, 7275655410
Student Coordinators
a. Akshat Anand (21BSA10035) akshat.anand2021@vitbhopal.ac.in 7091841582
b. Nikita Raut (21BSA10123) nikita.raut2021@vitbhopal.ac.in 9119598672
c. Shreyansh Jain (21BSA10012) shreyansh.jain2021@vitbhopal.ac.in 9494315111
Event 1. One scene, different perspective
Show a small clip from a movie that you thought was really meaningful and well done. Explain critically why you enjoy this specific scene and its greater meaning for the movie. Submit the recording of your critical commentary. The commentary given will be scrutinized by a constituted panel of judges and the winner would be judged.
Event 2. Out of the frame
In this event participants will exhibit their cinematic imagination. Participants are supposed to hand pick a scene and would recreate the scene to represent their unique take/twist. Enact and submit the recording of a reading of this alternate scene.
For both events:
Date and Time: 23.04.22, 09:00 – 11:00 AM
Venue: English Studio
Guidelines, Rules and Regulations: https://forms.gle/vcfXGUCKAS5gsXeW7
Contact details:
shubhamgupta.2019@vitbhopal.ac.in (99685 28863)
roopsa.chakraborty2020@vitbhopal.ac.in (98317 47475)
ML-SPRINT is a captivating "Hackathon Event" having distinct problem statements based on machine learning where you have to train your model in accordance with the problem statement you choose. It is being organized by the Data Science Club under the techno-cultural fest " AdVITya22 ". It is a dual mode contest conducted both in online as well as offline mode wherein students of various universities and colleges across the nation would participate and experience the spectacle of being a part of such a scaled and mammoth National level Hackathon at their comfort. Pitching into this National Hackathon would not only provide you an opportunity to network with a huge Computer science enthusiast community but it will also provide you an invaluable experience which would upthrust your future endeavors. And of course, top three winners would be appreciated with amazing cash prizes. DO MAKE USE OF THE OPPORTUNITY PROVIDED. THEY DON'T COME EASY.
Guidelines, Rules and Regulations:
Participants can participate individually as well as by forming teams. If participating as a team. Team size should be 2-4. Participants can be from any college/university.
Participants can choose any challenging problem statement from the list of the problem statements on the website
Problem Statements will be published on the website of data science club before 48 hours of event on 21st April,2022 @ 11:30 AM
Need to make best working model that gives a best efficiency
Mode of conducting event:
(a) Online Mode: Participants will present their working model and give a presentation through online mode.
(b) Offline Mode: Participants will come to specified venue and present their working model and presentation
Contact details:
Charchit Jain 7982137982 (charchit.jain2020@vitbhopal.ac.in)
Chetan Saini 6396244151 (chetan.saini2020@vitbhopal.ac.in)
Ujjwal Srivastava 9870668860 (ujjwal.srivastava2020@vitbhopal.ac.in)
Deepti Shakya 8979127981 (deepti.shakya2020@vitbhopal.ac.in)
Aditya Kumar 6299098884 (aditya.kumar@vitbhopal.ac.in)
"Good music comes out of people playing together, knowing what they want to do and going for it" – Keith Richards. The Music and Band Club is finally unveiling their most awaited event, Rock A Blast during Advitya 22. Here the participants can showcase their musical skills together as a band and make the crowd go crazy with their music.
Event Details:
Date: 23.04.2022 (Saturday)
Time: 9 Am Onwards.
Registration Fees: ₹600
Interested participants are requested to fill up the Google Form attached
below for the same.
Google Form Link: https://forms.gle/iYZ6TGXbWdXTg2hn7
Account details for registration:
Account name: VIT BHOPAL MUSIC AND BAND CLUB
Account number: 6565513289
VIT Bhopal Indian bank
Further information about the event will be informed to registered
candidates.
Please find the event poster attached below.
For any queries, please contact 
Aadira Ramakrishnan
19BCG10012
Email: aadira.anil2019@vitbhopal.ac.in
Aryan Ahuja
19MIM10096
Email: aryan.sunilahuja2019@vitbhopal.ac.in
Dance Club organized a Dance competition in Online and offline both modes:
(i) Any Body Can Dance (Solo Dance Competition)
(ii) Nirtyanjali ( Group Dance Competition)
Guidelines, Rules and Regulations:
Dance forms- All forms allowed, props allowed
Time limit of performance is of 3 minutes. Exceeding the time limit will lead to negative marking.
The participants are to submit the track or music in .mp3 format in a Pen drive at the time of reporting.
Props, costumes and soundtrack to be used during the performance are to be approved by the coordinators during the registrations.
No extra marks shall be awarded for the usage of props.
Any means of approaching the judges panel is not allowed.
Any kind of gift is unacceptable to the judge in conjunction with a performance.
Dance performance should not convey any indecent/vulgar gestures/moves.
Use of fire, water, sharp objects, powder, glitter and snow spray are strictly prohibited.
No disputes on the decision of the judges will be entertained.
All rights to disqualify an entry for their indecent/ in-disciplinary acts are reserved with the event coordinators.
Any changes or modifications in the rules, will be announced prior to the beginning of the event to the respective contestants.
Winners will be given prizes and all participants will be given participation certificate.
Contact details:
Dr Yogesh Shukla (Faculty Coordinator) – 9479877102
Aryaman Pachori-(Student Coordinator)-8770361885
Ishita Pandey -(Student Coordinator)-7839242658